Description

MAGIC3
 

TOUCHLESS™

 

Hydrophilic Intermittent Catheter

The MAGIC3 TOUCHLESS ™ is a closed system with a 100% silicone hydrophilic catheter, and is designed to help reduce the risk of UTIs. It has a MAGIC3® catheter for better comfort, a SURE-GRIP™ sleeve for more control, and many features of the bag that make it convenient and easy to use – especially for people with limited dexterity. From catheter to bag, the MAGIC3 TOUCHLESS™ closed system delivers on comfort, convenience, and safety.
Comfort | Three-Layer Silicone Catheter
Three Layer 100% Silicone Technology

Ultra-soft outer layer designed to maximize comfort
Firm middle layer for easier handling
Pliable innermost layer for easier navigation

Tapered tip for ease of movement over sensitive areas
Four comfort-sized drainage eyes for maximum drainage and flow of urine
Designed to be gentle on delicate urethral tissue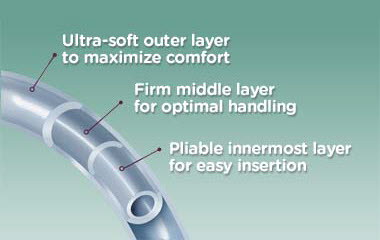 Virtually Friction Free | Hydrophilic Coating
The catheter's outer surface has a hydrophilic coating, that when wet creates a virtually friction-free catheter insertion and withdrawal
In a survey of 99 male intermittent catheter users, 93% did not feel any pain during insertion and removal of the MAGIC3®catheter*
* Karen Logan, The Male Experience of ISC with a Silicone Catheter, British Journal of Nursing, Vol. 24 No. 9, pp 530-534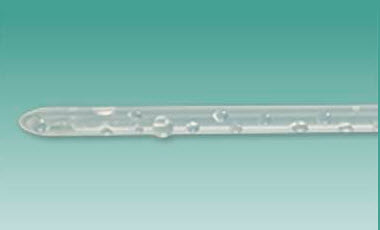 Safety | Designed to Help Reduce the Risk of UTIs
Insertion tip positions the catheter in the urethra, decreasing bacterial transfer from the meatus to the catheter to help reduce UTIs.
Collection bag's tapered neck design helps decrease scratches associated with sharp corners.
Collection bag has illustrations of primary instructions printed directly on the drainage bag for quick reference.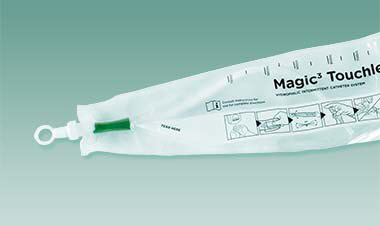 Convenient | Easy to Use
Catheter cap has a pull ring for easy removal – especially for people with limited dexterity 
1100cc durable collection bag virtually eliminates the risk of leaks 
SURE-GRIP™ sleeve allows the slippery surface of the catheter to be firmly grasped making the catheter easier to advance and maneuver
Insertion tip and perforated tear feature offer multiple drainage options 
Built-in collection bag handle is designed to aid in handling and draining of bag