Description

MAGIC 3 GO®Pediatric Hydrophilic Catheter
The MAGIC3 GO® hydrophillic intermittent catheter is available in a pediatric size for everyday use. These 100% silicone catheter has an insertion sleeve for better control, a discreet consumer package, and a new coating that maintains the catheter in a hydrated state so that it is ready to go out of the package.  No need to break a water sachet or manage any water/moisture for you.
Available with a SURE-GRIP™ Insertion Sleeve
The SURE-GRIP™ insertion sleeve allows the catheter to be held firmly without touching the surface, minimizing the risk of contamination.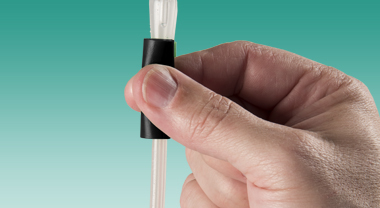 Unique CLEANGLIDE™ Technology
CLEANGLIDE™ technology is a next generation lubricious hydrogel that is self-hydrating, maintaining the hydrophilic coating and the catheter in a hydrated state, requiring no patient activation with water prior to use.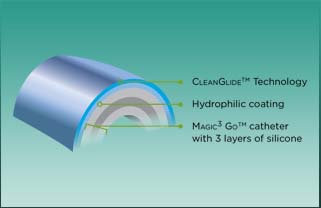 Three Layer Silicone Technology MAGIC 3
GO® catheter is a three-layered silicone catheter designed to glide easily and comfortably through the urinary tract.
Comfort – Ultra-soft outer layer designed to maximize comfort
Easy Handling – Firm middle layer for easy handling
Easy Navigation – Highly pliable inner layer for easy navigation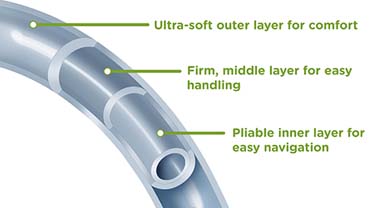 Comfort Designed Tapered Tip
 MAGIC3 GO® catheter offers a comfort-designed tapered tip with four drainage eyes for maximum drainage and flow of urine.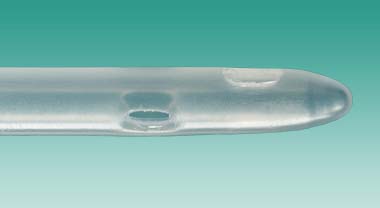 Easy to Carry | Easy to Open | Easy to Use Packaging
The MAGIC3 GO® catheter package is discreet and gives you the ability to carry it folded in a compact format.
Easy to Carry – Easily folded in a discreet and compact format during your day
Easy to Open – Easily opened with finger ring tab
Easy to Use – Ready to go right out of the package without the need of adding water or lubricant. The adhesive folding tab frees up your hands by attaching to dry, vertical surfaces.