Description

MAGIC 3 Catheter
The non-coated MAGIC3® Catheter is designed for comfort and maximum control. 
00% Silicone | Maximum Comfort | Easier Handling & Navigation
The MAGIC3® intermittent catheter is made of 100% silicone is soft and designed to be gentle on delicate urethral tissue.  It has an ultra soft outer layer designed to help maximize comfort.  A firm middle layer for easier handling and a pliable inner layer for easier navigation.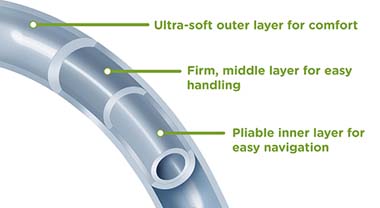 Tapered Tip | Four Comfort Sized Drainage Eyes
Comfort designed tapered tip and four comfort sized drainage eyes for ease of movement over sensitive areas and maximum drainage and flow.