Description
Control-IQ Technology
The easy choice to help protect from highs and lows, to help increase time in range.
Trying to keep your blood sugar in range can be stressful and time-consuming. Our Control-IQ advanced hybrid closed-loop technology makes it easier by predicting and helping to prevent highs and lows.
AUTOMATIC INSULIN ADJUSTMENTS
Control-IQ™ technology automatically adjusts insulin levels based on Dexcom G6 continuous glucose monitoring (CGM) readings.†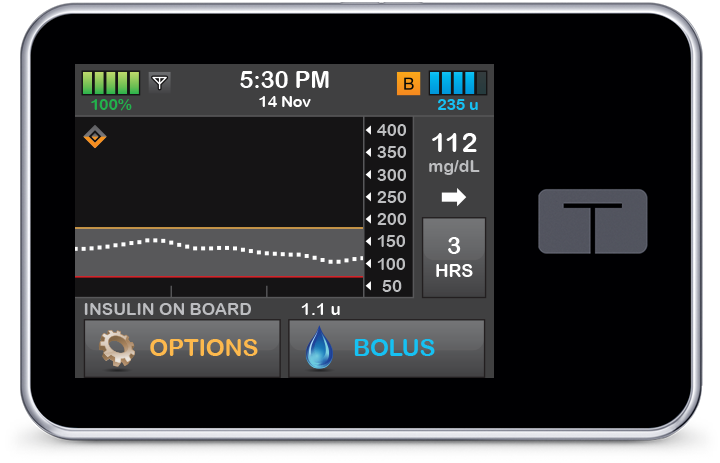 CORRECTION BOLUSES
Control-IQ technology can also deliver automatic correction boluses (up to one an hour) to help prevent hyperglycemia.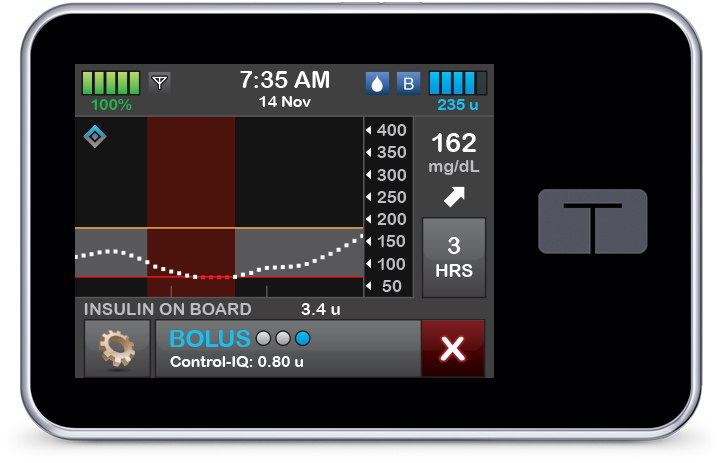 ACTIVITY SETTINGS
Control-IQ technology includes optional settings for Sleep and Exercise Activities that adjust treatment ranges for more control.

How it works
The t:slim X2 insulin pump with Control-IQ technology is designed to help increase time in range (70-180 mg/dL)* using Dexcom G6 CGM values to predict glucose levels 30 minutes ahead and adjust insulin delivery accordingly.
CONTROL-IQ STATUS ICONS
Icons display on the pump screen to visually indicate when insulin delivery is increasing, decreasing, or stopped. Please refer to the table for a breakdown of status icons.
Zero Fingersticks
Dexcom G6 CGM integration with the t:slim X2 pump provides exceptional accuracy3 for optimized insulin delivery. Dexcom G6 is the first real-time, integrated continuous glucose monitoring (iCGM) system requiring zero fingersticks for calibration or mealtime dosing.‡